Thyroid Px (75 Vegi Caps)
SKU: RF-1300-C
Regular price
Retail Price:
$39.00 USD
Sale price
Practitioner Price:
$20.00 USD
Unit price
per
Features herbs and nutrients to support thyroid function.
This formula is the most potent support we offer for healthy thyroid function.
Provides the thyroid with the required nutrition and substrates.
Supplies the building blocks for T3/T4 hormone synthesis.
Promotes the activation of thyroid hormone.
Supports Metabolism
Promotes T4-T3 Conversion
Stabilizes Thyroid Peroxidase Antibodies
Optimizes Body Temperature
High dose Iodine/Iodide
Product Information Sheet
View full details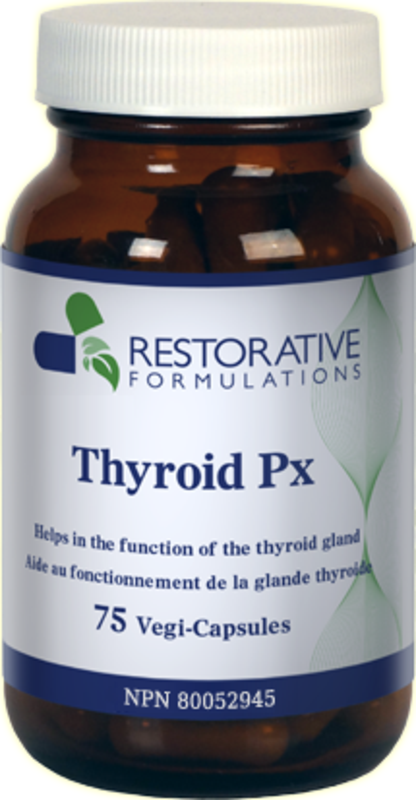 Thyroid Px is a balanced blend of minerals and botanicals designed to support the healthy functioning of the thyroid gland while simultaneously maintaining healthy metabolic function. Thyroid Px optimizes thyroid function, normal body temperature and general metabolic rate.
This formula can help stabilize thyroid peroxidase immunoglobulins. The powerful antioxidants selenium and zinc, as well as the myrrh guggul gum resin, help neutralize free radicals that affect iodothyronine-5'-monodeiodinase enzyme activity, which is involved in the conversion of T4 to the active T3 hormone.
Iris species contain oleoresins in their roots and are historically claimed to move fluid (lymph). Myrrh Gum Resin is a powerful adaptogen which not only augments the thyroid, but also the liver and kidney. Studies suggest that Commiphora's constituents may help to increase iodine metabolism in the thyroid and T4-T3 conversion in peripheral tissues. Given the important role iodine plays in thyroid function, Thyroid Px includes .7 mg of Potassium iodide in one capsule.
Ingredients
Amount Per Capsule
Vitamin D 3

(as cholecalciferol)

400 IU
Zinc

(as zinc citrate)

5 mg
Iodide

(as potassium iodide)

0.60 mg
Selenium

(as selenomethionine)

0.10 mg
Bladderwrack, Certified Organic

(Fucus vesiculososus)

200 mg
Blue Flag, Certified Organic

(Iris spp.)

150 mg
Guggul Myrrh

(Commiphora spp)

50 mg
Ashwagandha root, Certified Organic

(Withania somnifera)

50 mg
Nettle leaf, Certified Organic

(Urtica dioica)

50 mg
Triphala, Certified Organic

(Phyllanthus emblica)

Terminalia bellrica
50 mg
N-acetyl Cysteine

(N-acetyl Cysteine)

25 mg
Rosemary Extract

(Rosmarinus officinalis)

50% Rosmarinic acid
25 mg
Ginger root, Certified Organic

(Zingiber officinale)

10 mg
Diiodotyrosine, 5-Diiodotyrosine
0.20 mg
Organic Herbs are Certified Organic
Other Ingredients:
Vegetable Cellulose (capsules)
This product is free of GMO, Gluten, wheat, saturated fats, sugar, dairy, yeast, and corn.
Cautions:
When increasing dose, do so gradually to a maximum dose of 4 capsules, twice daily. Never take high doses for more than 3 months.
Hormone Metabolism
Advanced blend of nutrients with high dose of Iodine and herbs targeting thyroid gland health and function, maintaining healthy metabolic rate and body temperature.
Thyroid Metabolism & Energy
Supports healthy thyroid hormone production providing important nutrients necessary for thyroid hormone health.
Servings Per Container:
37
Suggested Use:
1 to 2 capsules twice daily, or as recommended by your healthcare practitioner. Can be taken with or without food.
Choosing a selection results in a full page refresh.
Opens in a new window.