Phyto J.E.C.
Regular price
Retail Price:
$31.00 USD
Sale price
Practitioner Price:
$16.00 USD
Unit price
per
Product Code: P-RENA
Juniper (Juniperus communis)
Elm (Ulmus campestris)
Corn (Zea mays)
Opens cutaneous renal, intestinal or hepatic emunctories for intracellular toxins
Phyto J.E.C. assists the drainage of intracellular toxins from cutaneous, intestinal, liver, and kidneys. It's used ten days of the month for six months to ensure adequate clearance of toxins. Liberated intracellular toxins enter the extracellular space. It is important to integrate extracellular drainage like this to continue the elimination process. Otherwise, toxins will stay in the extracellular space.
One protocol: twenty days of  of Phyto J.E.C.
The cycle can be repeated to help remove toxins.
Elm is at the centre of this complex, it works on the kidney, cutaneous, and intestine to remove toxins. It helps reduce uric acid and cholesterol. Together it tonifies the skin and helps with all forms of eczema.
Corn protects the heart and coronary arteries, kidneys, urinary tract and boosts the adrenal glands. Within the heart, it provides antiinflammatory action which extends to the arteries. Corn provides drainage and diuretic action on the kidneys preventing stone formation, reducing inflammation associated with cystitis and pyelonephritis.
Juniper has anti-crystal action on the renal system and hepatocytes by normalizing electrolyte balance. Juniper is also important for eliminating uric acids by enhancing detox processes on the liver and gallbladder.
View full details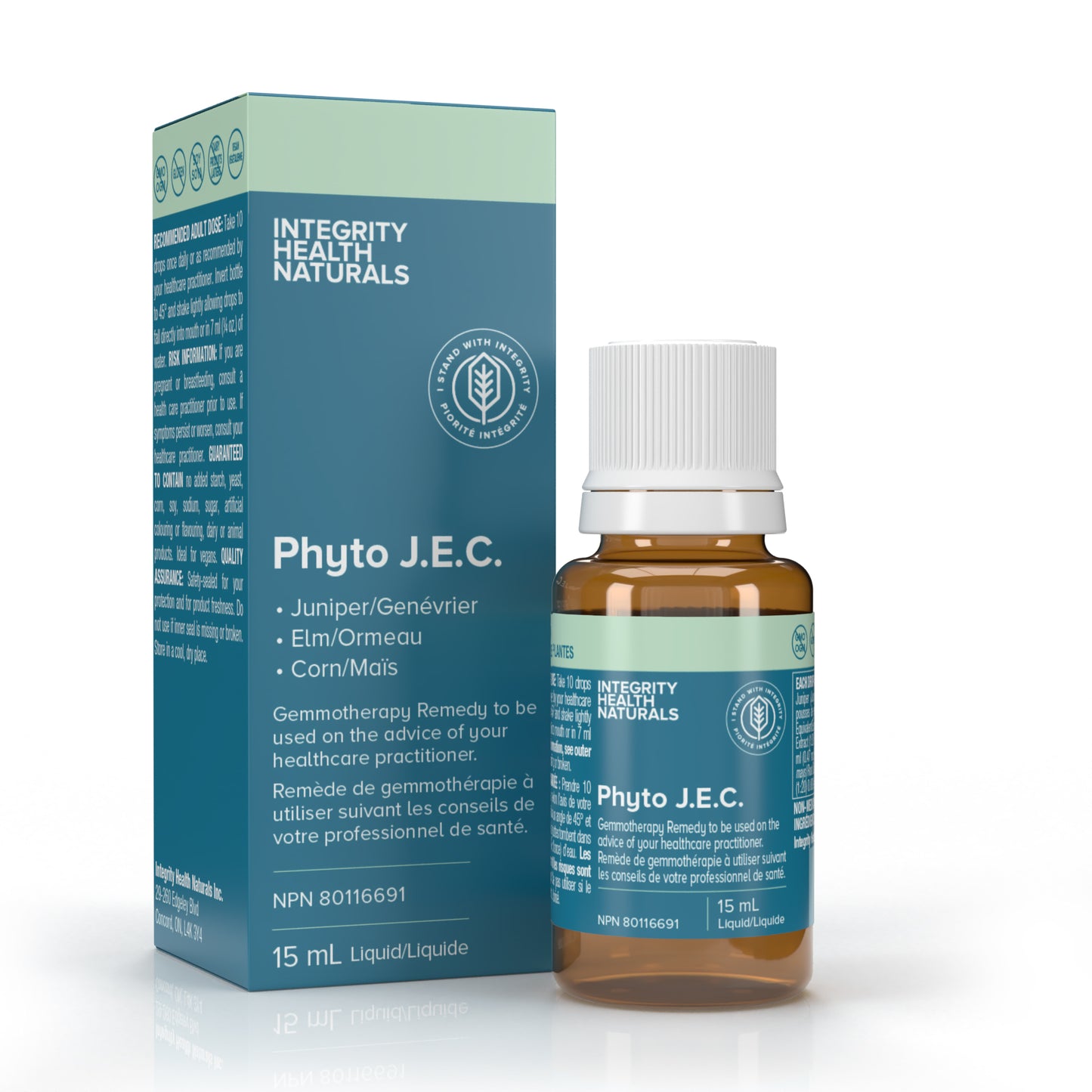 Choosing a selection results in a full page refresh.
Opens in a new window.