Phyto J.B.E.
Regular price
Retail Price:
$31.00 USD
Sale price
Practitioner Price:
$16.00 USD
Unit price
per
Product Code: P-LIV
Juniper (Juniperus communis)
Black Currant (Ribes nigrum)
English Walnut (Juglans regia)
Iatrogenic aggression, chemotherapy, pollution, radiotherapy
"Earth… is being saturated with man-made chemicals in an event unlike anything in the planet's entire history… The European Chemicals agency estimates there are more than 144,000 man-made chemicals in existence.
The US Department of Health estimates 2000 new chemicals are being released every year." With this in mind, the liver is under daily chemical assault from environmental toxins.
Phyto J.B.E. is a general drainage for clearing the primary emunctories. It also protects the liver from toxin overload and upregulates the kidney's diuretic function, thereby increasing the transit of toxins out of the body. 
Phyto J.B.E. helps maintain a defence against environmental toxin-induced endocrine disruption of the Adrenal Glands. Through this action, Phyto J.B.E. is indicated for adrenal fatigue and promotes recovery.  
Blackcurrant is the primary remedy in the complex, tonifying and restoring the exhausted body. It is also indicated as adjunct post-chemotherapy treatment. In combination with English Walnut, it is used for post-antibiotic therapy.
Traditionally Juniper was used as an antidote for 'poison', for this reason, it's believed English Walnut protects the kidney and liver when used after chemotherapy treatment.
Finally, English Walnut is given to individuals struggling with alcohol recovery in order to protect the immune system from the oncoming onslaught.
Rats given ethanol with English Walnut had diminished AST, ALT, GGT, and LDH levels, an indicator of liver damage. English Walnut preserves the immune identity of the intoxicated individual by protecting its barriers, mainly the intestinal mucosa. Like Blackcurrant, English Walnut also protects from antibiotic therapy and chemotherapy.
View full details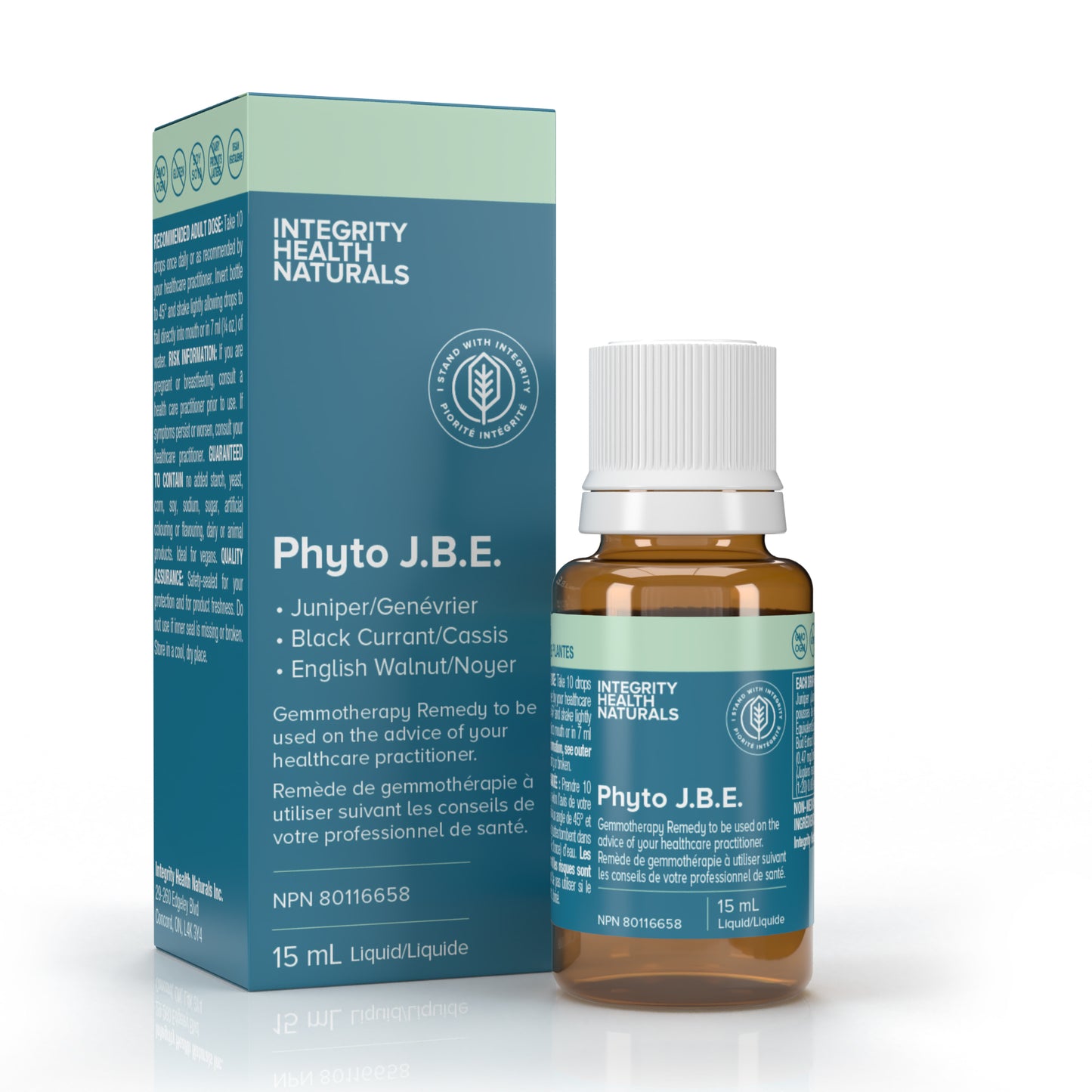 Choosing a selection results in a full page refresh.
Opens in a new window.