Glucose Px (120 Vegi Caps)
SKU: RF-1130-C
Regular price
Retail Price:
$53.00 USD
Sale price
Practitioner Price:
$29.00 USD
Unit price
per
Herbs and trace minerals combine to support healthy glucose metabolism, facilitate glucose transport and support glycogen storage.
This formula supports healthy liver function and promotes balanced fat and glucose metabolism.
Milk thistle helps maintain normal levels of superoxide dismutase (SOD) and glutathione peroxidase (GPx) enzymes which decrease oxidative stress.
Contributes to Healthy Blood Sugar Metabolism
Product Information Sheet
View full details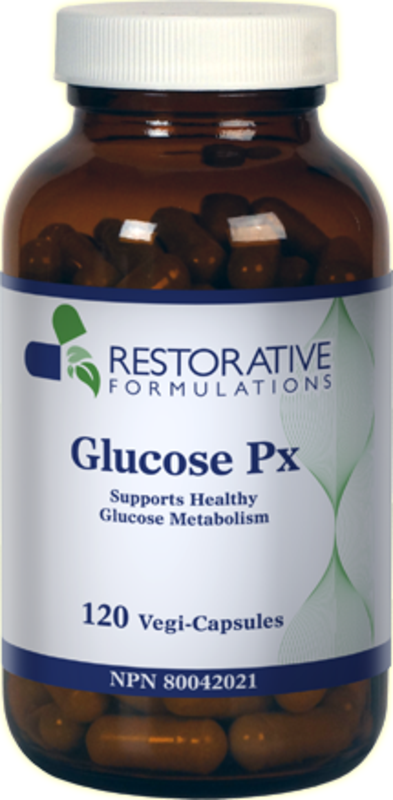 The formula for Glucose Px was designed with healthy glucose metabolism in mind. Milk thistle seed extract is an excellent herbal tool to support the liver, which is the main organ involved in glucose storage and metabolism. Glucose Px promotes the metabolism of glucose and fat in the liver, and their entry into cells where they can be utilized appropriately. This herbal formula helps support healthy metabolism of fats and sugars.
Ingredients
Amount Per Capsule
Vanadium (vanadyl sulfate)
900 mcg
Chromium (chromic polynicotinate)
167 mcg
Gymnema sylvestre extract, 25% Gymnemic Acid
400 mg
DL-alpha-Lipoic acid
100 mg
Organic Milk Thistle seed (silibum mariannum)
75 mg
Organic Prickly Pear leaf (opuntia ficus indica)
30 mg
Milk Thistle seed extract, 80% silymarin
25 mg
Minimum Constituent Bio Marker Per Dose
Gymnemic Acid Glyycosides
80 mg
Silymarin Flavonoids (HPLC)
15 mg
Organic Herbs are Certified Organic
Other Ingredients:
hypromellose vegi-caps
This product is free of GMO, Gluten, wheat, saturated fats, sugar, dairy, yeast, and corn.
Hormone Metabolism
A comprehensive formula supporting healthy glucose metabolism, transport and storage. Supports liver health and function, as well as healthy blood lipids.
Servings Per Container:
40
Suggested Use:
Adults take 1 vegi-cap daily, or as directed by a health care practitioner.
Choosing a selection results in a full page refresh.
Opens in a new window.