ADR Px L-BP (75 Vegi Caps)
SKU: RF-1060-C
Regular price
Retail Price:
$56.00 USD
Sale price
Practitioner Price:
$31.00 USD
Unit price
per
Promotes maintenance of healthy cortisol levels, thus optimizing adrenal effects.
Maintains healthy blood pressure already in normal range.
Adrenal Support
Cortisol/Aldosterone Support
Combats Occasional Fatigue
Product Information Sheet
View full details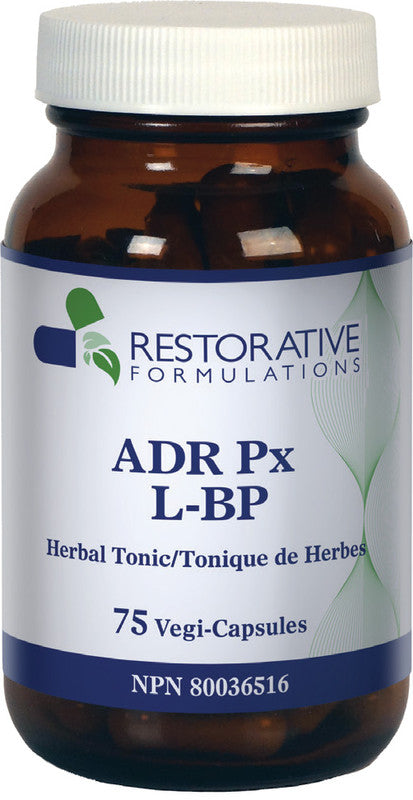 Our ADR Px L-BP products, available in both a solid extract syrup and capsule form, provide herbal support for adrenal function and are especially indicated for keeping blood pressure within a healthy range. The capsule form is more cost-effective than the syrup form because it delivers more servings per bottle, with a much higher concentration of glycyrrhizic acid at 120 mg per serving.
The ADR Px L-BP Capsules and the ADR Px L-BP Syrup contain a highly concentrated form of Glycyrrhiza (licorice). Licorice supports the maintenance of healthy cortisol and aldosterone levels and is traditionally used to uphold healthy adrenal glands and a healthy liver. The capsules also include additional adaptogenic herbal extracts such as Holy Basil and Rhodiola, which offer an additional calming effect on the nervous system while providing adrenal support.
Ingredients
Amount Per Capsule
Licorice root/racine extract 10:1(Glycyrrhiza glabra L.)
20% Glycerrhizic acid 69 mg
345 mg
Organic African Basil leaf (Ocimum gratissimum)
0.5% Volatile Oil 0.50 mg
100 mg
Organic Eleuthero root extract 50:1 (Eleutherococcus senticosus)
0.8% Eleutherosides .4 mg
50 mg
Organic Rhodiola root (Rhodiola rosea)
0.7% Salidroside 0.25 mg
35 mg
Organic Hawthorn Leaf and Flower (Crataegus laevigata)
35 mg
Organic Alfalfa herb (Medicago sativa l.)
25 mg
† Daily Value (DV) not established
Organic Herbs are Certified Organic
Other Ingredients:
Hypromellose (capsule), Omega Oil Powder
This product is free of GMO, Gluten, wheat, saturated fats, sugar, dairy, yeast, and corn.
Cautions:
The ingredients contained within ADR Px L-BP can elevate blood pressure and heart rate, thus these products are not intended to be taken by individuals with cardiovascular disease. Patients taking ADR Px L-BP, should have their heart rate and blood pressure monitored regularly.
Adrenal Metabolism and Energy
Adrenal support formula featuring concentrated amounts of licorice to support healthy cortisol and aldosterone levels. This herbal blend helps maintain a healthy blood pressure within normal range, supports adrenal health and function, and can be effective for occasional fatigue. Contraindicated in hypertensive patients.
Servings Per Container:
37
Suggested Use:
Adults take 2 vegi caps twice daily, or as directed by a health care practitioner. Take a few hours before or after taking other medications. Not to be taken immediately before bedtime.
Choosing a selection results in a full page refresh.
Opens in a new window.