ADR Px Balance Caps (75 Vegi Caps)
SKU: RF-1020-C
Regular price
Retail Price:
$39.00 USD
Sale price
Practitioner Price:
$22.00 USD
Unit price
per
Supports antioxidant defenses to provide protection from harmful free radicals.

Gently supports adrenal function to promote physical vitality and mental sharpness.
Calming to the nervous system.
Supports blood vessel integrity.
Adrenal Support
Supports Healthy Mental Performance
Moderates DHEA Levels
DHEA/Cortisol Ratio
Combats Occasional Fatigue

Product Information Sheet
View full details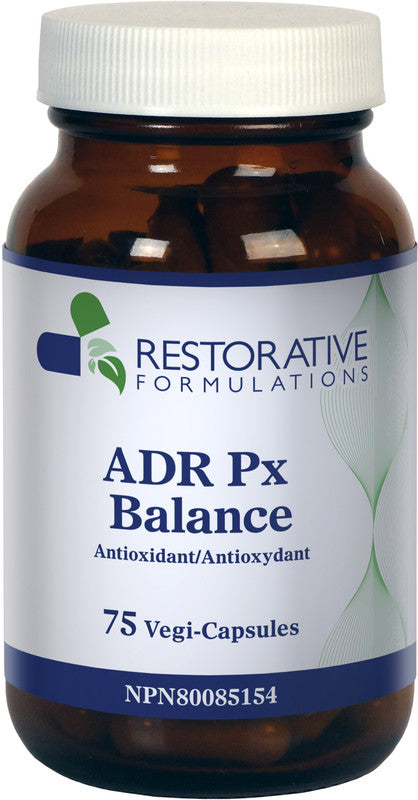 Our ADR Px Balance products provide highly concentrated adaptogenic herbal support for adrenal function. This formula was specifically designed to reduce occasional fatigue, increase resistance to stress and help maintain healthy cortisol levels during stressful life events. The addition of the adaptogenic herbal extracts of Holy Basil and Rhodiola offer an enhanced calming effect on the nervous system along with providing adrenal support. The herbal formula in ADR Px Balance Capsules is very similar to ADR Px Balance Syrup, but includes Rhodiola and Holy Basil, and a difference in the dosage form. When compared to ADR Px L-BP, ADR Px Balance capsules and syrup are meant for more general indications.
Ingredients
Amount Per Capsule
Vitamin C (Ascorbic acid)(acide ascorbique)
15 mg
Wildcraft Eleuthero root extract (Eleutherococcus senticosus)
0.8% eleutherosides B & E 2.4 mg
300 mg
Organic Hawthorn Leaf & Flower (Crataegus laevigata)
1.25% vitexins
150 mg
Organic Holy Basil leaf (Ocimum tenuiorum)
0.5% Volatile Oil 0.25 mg
100 mg
Organic Alfalfa herb(Medicago sativa L.)
50 mg
Organic Rhodiola root (Rhodiola rosea)
0.7% Salidrosides
50 mg
† Daily Value (DV) not established
Organic Herbs are Certified Organic
Ingredient Science:
Eleuthero MonographHawthorn MonographAlfalfa MonographHoly Basil MonographRhodiola Monograph
Other Ingredients:
Hypromellose vegi caps, Omega 3 Powder
This product is free of GMO, Gluten, wheat, saturated fats, sugar, dairy, yeast, and corn
Adrenal Metabolism and Energy
Comprehensive formula to support adrenal health by maintaining healthy cortisol levels during stressful events, providing adrenal support, and boosting physical wellbeing.
Mitochondrial Metabolism & Neuroprotection
A unique blend of adaptogen herbs to support energy and cellular energy production, and help the body combat occasional fatigue.
Memory, Mood & Stress
Promotes a calm nervous system, maintains a healthy mood, and supports optimal cognitive function.
Serving Size: 2
Servings Per Container: 37
Suggested Use: Adults take 1 vegi capsule twice daily, or as directed by a health care practitioner.
Choosing a selection results in a full page refresh.
Opens in a new window.